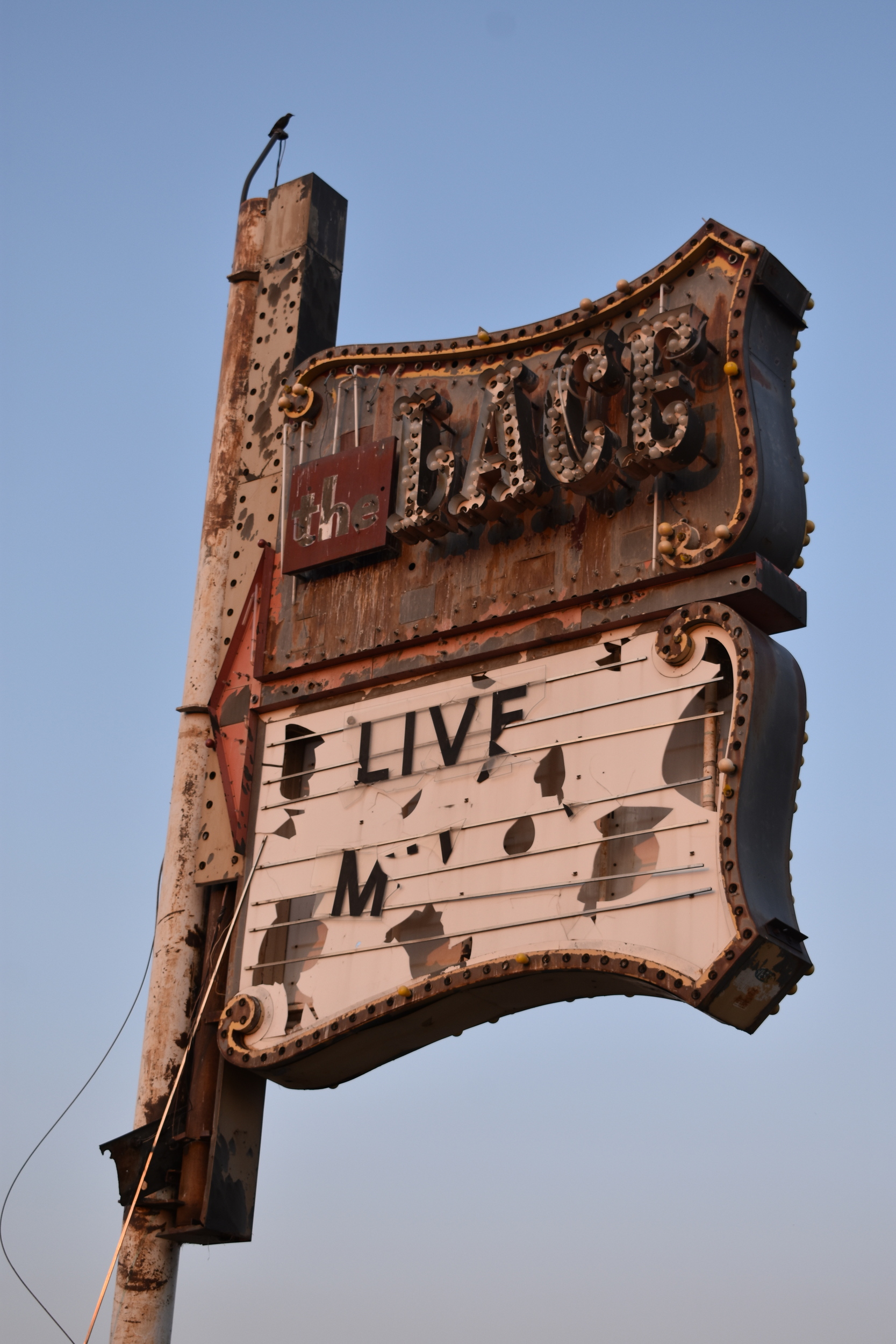 There are many places in Nevada that once were well-populated because of gold or silver rushes and other economic opportunities that are now essentially ghost towns. Some small towns or communities are fading or abandoned because the main highways no longer run through them. These places once had businesses that bubbled with excitement and were lit up with neon signs. Interestingly, some of the neon signs from those businesses are still standing even though the buildings they signaled have been demolished or boarded up. These few ghostly neon signs that remain are eerie relics of another time.
One particularly haunting neon sign sits on the road near Mound House. "The Lace" can be made out on the dilapidated, rusted old sign above a marquee that says "Live" and "M", presumably "Live Music." Not much is known about this sign--which business it was attached to or when it was built. We do know that "the lace," is an old term that refers to prostitution, so this sign was likely that of a brothel. Mound House is an unincorporated community along US Route 50 in Lyon County, one of eight counties in Nevada with legalized prostitution. There were once four brothels in Mound House and all are now defunct.
Sue's Motel in Mina, Nevada, a small town in the west-central part of the state, has been abandoned for over 15 years but its Googie-style neon sign remains standing. The sign is likely worth more than the entire property. Googie style is a futuristic type of design that is characterized by its use of geometric shapes, bold lines, prominent elements of steel, glass, and neon, and designs that are reminiscent of space ships, flying saucers, boomerangs, stars, and atoms. The style was popular during the 1930s-'60s when American society was fascinated by the space race and all things futuristic. The Sue's Motel sign says "Motel" vertically on curved rectangles that alternate red and blue. There are four stars that appear to be shooting through the letters. The sign is still in relatively good shape and is a classic example of Googie style. The Bell Court Motel in Battle Mountain, Nevada, is another demolished motel that has been outlasted by its neon sign.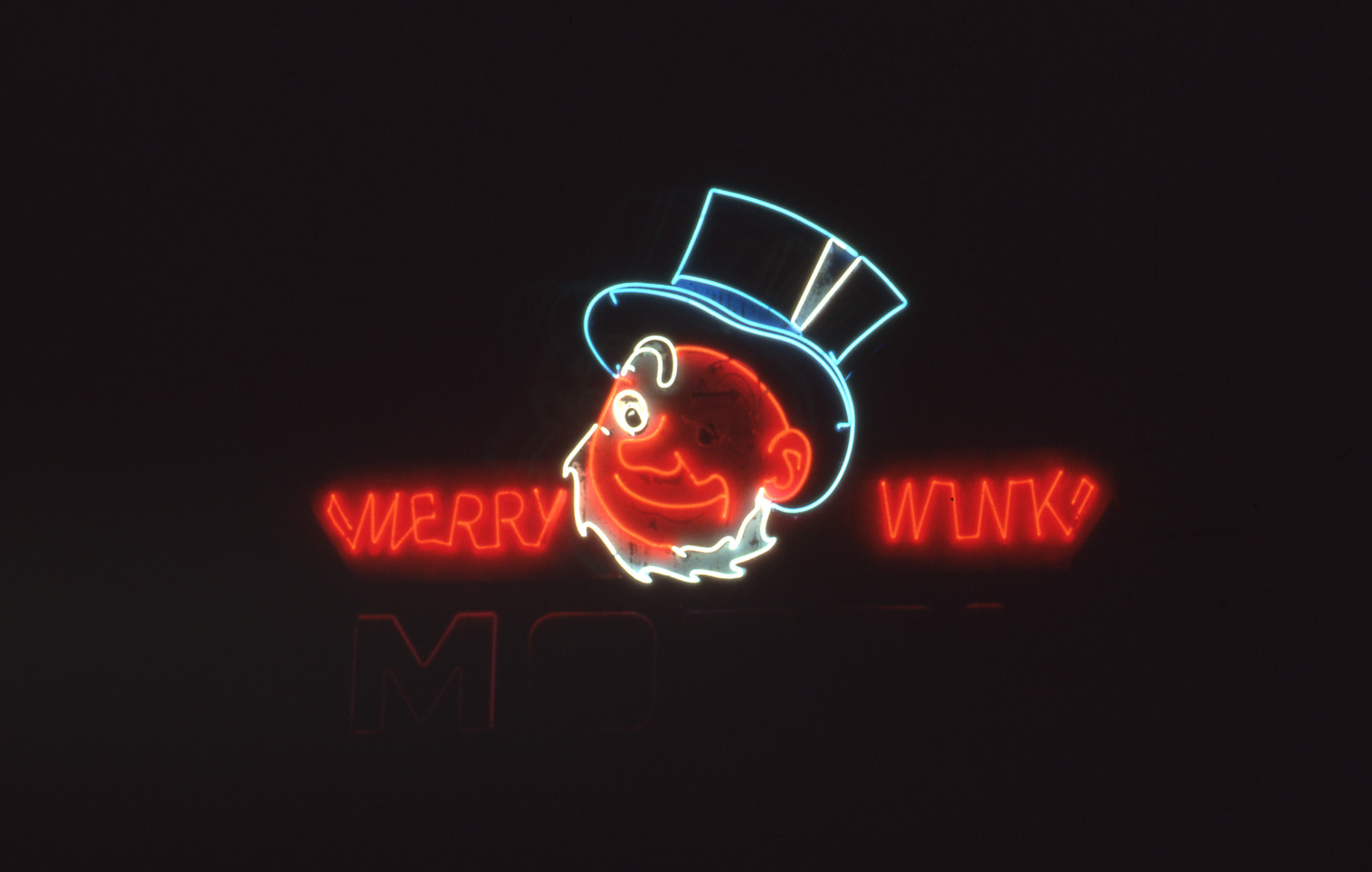 The Merry Wink Motel, which was on the very south end of Virginia Street on the outskirts of Reno, has a widely recognizable sign of a merry old man winking. Although the motel is no longer in operation the sign proudly still stands in its original context. Will Durham, director of the Nevada Neon Project, purchased the sign about 20 years ago and thought it was important to the community to keep it up. He hopes to one day restore it and bring it back to its former neon glory.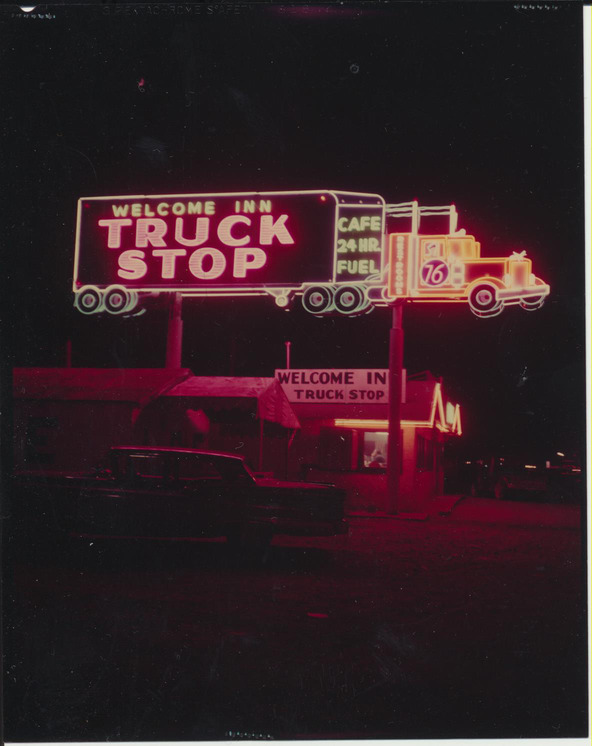 The Truck Inn in Fernley, Nevada, was once a popular respite for weary long-haul truckers and other travelers along I-80. It was once a relatively busy motel and casino complete with a diner and ice cream parlor. Although the Truck Inn has been razed, the sign, which is an actual semi-truck hoisted high off the ground with "Truck Inn" printed on the broad side of it, remains standing tall against the vast landscape.
Neon in Nevada has a few abandoned signs in the collection that have not been identified. One is a simple sign that says "Bar" outside of a boarded-up stone building. Just up the road a few hundred feet from the bar sign is a sign that says "Trailer Park" in fading white letters.
Like the ghost towns that dot the west, these ghost signs are vestiges of the rich history of Nevada. It is so important to keep as many of them in their original context as possible to keep those stories alive, even if the businesses they once advertised for are no longer.