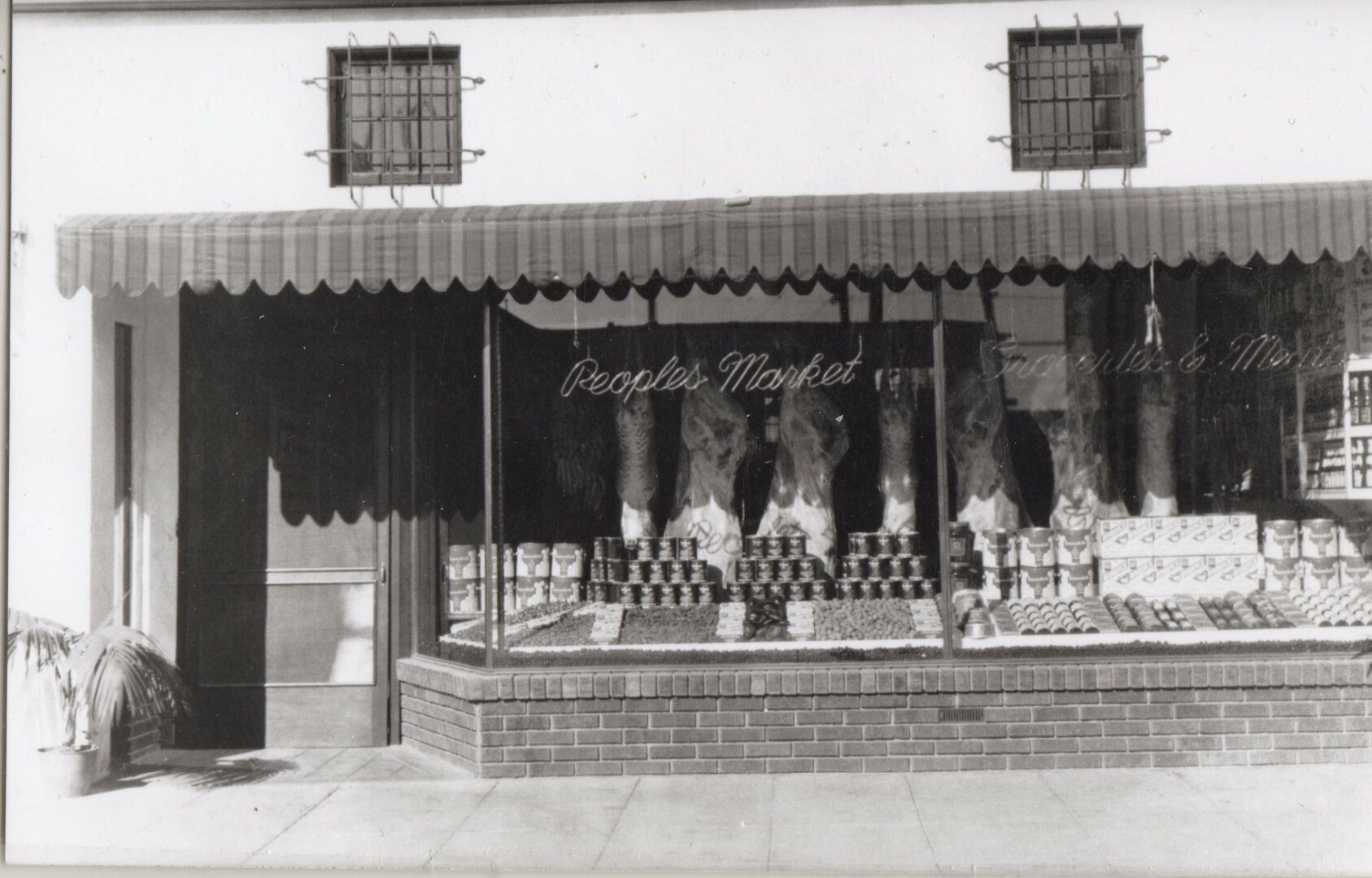 The familiar buzz and glow of neon is not just found in Las Vegas, Reno, and Carson City. In every small town across Nevada, like Elko, Winnemucca, Battle Mountain, and Ely, to unincorporated communities like Jackpot and Mound House, there are neon stories to be told. Each of these neon signs with their artful typography were, and many still are, beacons of the Modern American West. When you cross the Nevada border on any side you are sure to come soon across neon.
The first documented neon sign in Nevada was the People's Market window sign in Elko in 1928. It was a simple single-strand neon sign displayed in the store window. Elko was a neon hotspot for a long time, and it held onto the aesthetics of the forties and fifties with its flashy cowboys, martinis, and classic red and blue neon. Shorty's Club, a popular bar along the railroad tracks, had a neon sign shaped as a caricature of the owner of the bar, Shorty himself. The bar is no longer Shorty's and the sign's location is now unknown. Elko also has a few hotels with impressive neon signs perched on their buildings: Stockmen's Hotel with its great neon cow and "World Famous Steaks" sign, the Star Hotel with a giant red neon star, and the Commercial Hotel with its polar bear statue. Stockmen's Hotel opened in 1944 in the place of the Mayer Hotel. Stockmen's also has a casino, bar, coffee shop, and drug store, as advertised in neon around the side of the building. Star Hotel is a Basque hotel and restaurant that was opened in 1910 by Peter Jauregui as a home away from home for Basque people in Nevada. The Commercial Hotel started out as the Humboldt Lodging House, which was built in 1869. Ranchinn Motor Lodge was built in Elko in 1946, a ten-foot wide root beer stand was remodeled into a sixty-eight room motel, and had a grand roadside neon sign that featured a grinning cowboy.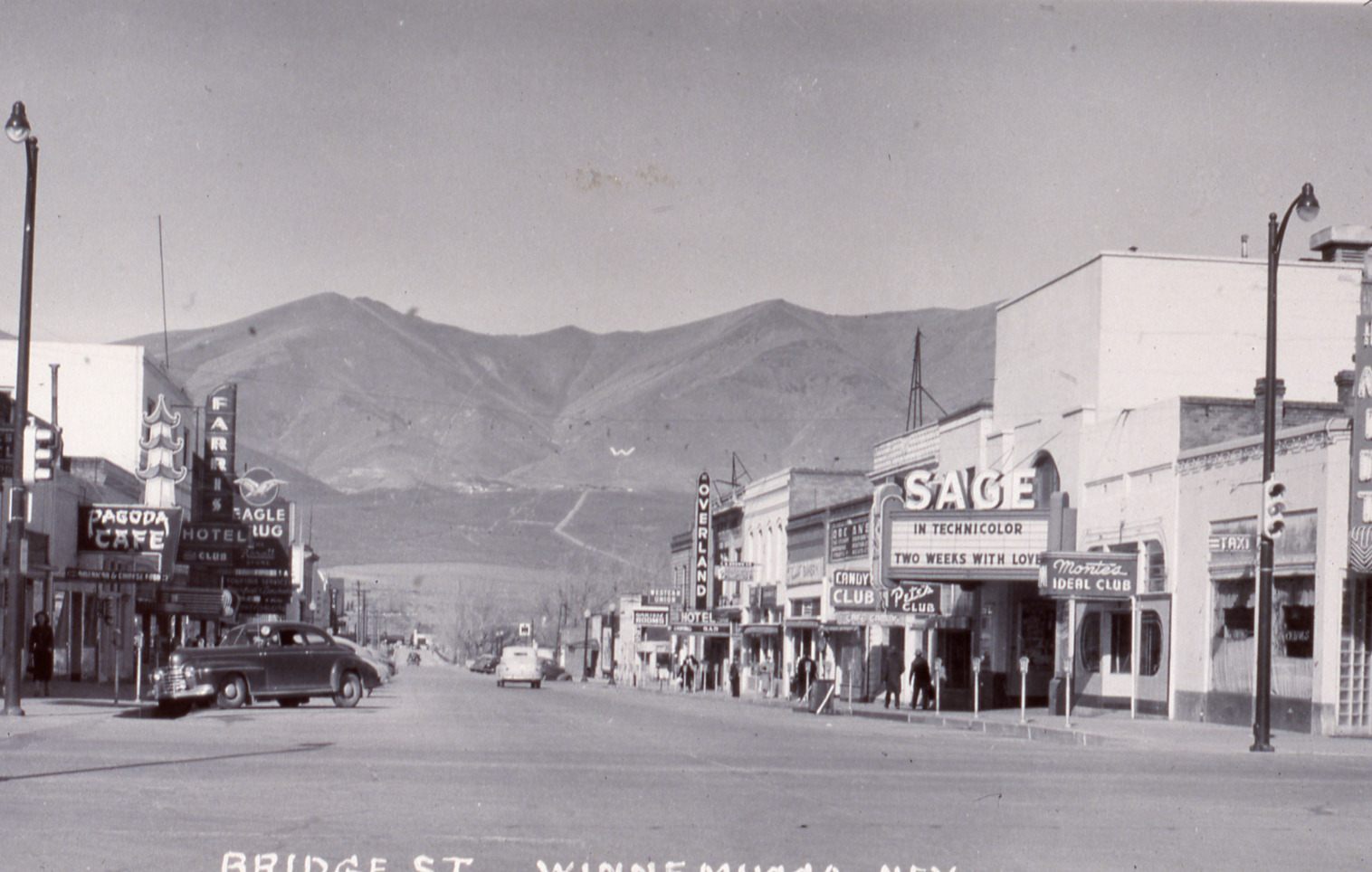 Winnemucca is home to the famous Pig BBQ & Pub with its delightful pair of neon pigs each clutching a knife and fork beckoning hungry diners. The Griddle is another Winnemucca restaurant that sports a neon sign that says, "The Griddle, Good Cookin'" and features a cowboy and a big hearty breakfast. Bridge Street is one of Winnemucca's main streets and has (or had) a number of interesting neon signs belonging to Humboldt Hotel, Sage Theater, Overland Hotel, Pagoda Cafe, and Montes Ideal Club. Along Winnemucca Blvd the Welcome Inn Truck Stop called to weary long haul truckers and other travelers with its massive big-rig neon sign. It was a popular respite, but it closed around 1973 when it was bypassed by the interstate. Close to Winnemucca Blvd with its neon facade is the Corner Drug Store, which is still in operation. Red Bull Restaurant and Casino also had an impressive display of neon, complete with a red bull so massive it had to be airlifted in by YESCO to its perch atop the building.
Battle Mountain, Nevada, is home to the famous Owl Club Casino & Restaurant, which has quite a bit of neon wrapping around the entire building and of course the famous Owl Club mascot. The Owl Club also has a motel that has been welcoming visitors to Battle Mountain for over a century. Also in Battle Mountain is the Colt Inn Casino which has a neon horseshoe sign. Both the Colt Inn and Owl Club are still in operation today.
Ely, a remote mountain town on the eastern edge of the "Loneliest Road in America," is home to a multitude of neon, past and present. Some of the oldest belonged to the Capitol Casino, Ely Cafe, Miner's Club, Bank Club, Hotel Nevada, State Cafe, Ely Theater, and Hotel Northern on Main Street, which all date back to around 1929. The Nevada Club has a number of neon signs: two blue neon slot machines, lettering, and a huge miner towering over the name. Miscellaneous neon has added character to the streets of Ely, included an eagle perched on a gas station, the sign for Nanette's Shoe Shop with its classic red neon and whimsical flower display, the Midget Bar sign topped with a neon sun, Greg's Club and Club Rio (which are next door to each other), and the Deser-est Motel. Today you can still see neon signs belonging to the El Rancho Motel, Ely Hotel, East Ely Pharmacy, and Happy Garden restaurant. Some ghost signs remain: a dilapidated neon arrow mysteriously points to an abandoned building and the faded Four Sevens Motel sign.
Jackpot is an unincorporated rural community in Elko County, Nevada, close to the Idaho border that has a high number of neon signs per capita. Jackpot, with its cluster of casinos seems to be saying, "Jackpot! You're in Nevada now!" Cactus Petes Resort and Casino is a popular stop and has been in operation for 65 years as of October 2021. Across the street from Cactus Petes is the Horseshu Hotel & Casino, which has classic western look. Its neon signs include a horseshoe with a sheriff star inside as well as the words, "Casino" and "Saloon." The Pony Express Casino's sign has a similar western aesthetic. Its "Casino" neon sign is shaped in a classic western font. Also in Jackpot are Four Jacks Hotel & Casino, which has a yellow building with a red facade and neon lettering, Bourbon Street Sports Bar, Covered Wagon Motel, and West Star Hotel, each advertising with neon. On the outskirts of town is the ruins of Mineral Hot Springs. Jackpot is a small town with the classic feel of the old west and the mid-century thanks to its neon assortment.
Neon reaches into the furthest corners of Nevada, and these small towns and communities are testaments to neon's impact on the state's identity. The stories of Nevada are written in neon. While neon is most conspicuous in the urban centers of Las Vegas and Reno, Nevada is as much about these small communities as it is about the dazzling Strip. Neon signs like those found in these rural pockets of civilization keep bygone eras of Nevada alive.